so i've done alot since my last post, flew to Columbus, was in a wedding in Akron, met at least 12 relatives, got turned down on a job, went to a river to jump of a tunnel, ate at Ruby Tuesdays...etc. Ohio is always nice, and this time perfect. I got to have lunch with my sister Libby in Columbus and almost crashed her car into a dumpster while re-training myself how to drive stick. That night was the wedding rehearsal and dinner at Danielle and Mike's AMAZING backyard, newly finished and fully equipped with a fire pit, hot tub, two picnic tables, tiki lights, a huge grill, and two really cute and very energetic dogs. Friday, i spent time with my Mom, her two sisters Debbie, and Jenny, and my Grandma. We had our ritual "hang time" consisting of a trip to Gabriel's (where i miraculously didn't spend a penny) and then lunch at
Swenson's
(which for those of you who don't know has the BEST burgers and fried mushrooms). Later that night, Addie and bff Tiffany and I all went out for a crappy dinner at this fake mexican restaurant on "the strip" in Medina. If if weren't for the "hot" server, the meal would have been totally worthless. it seriously took less than three minutes for our entrees- i know thats not a good thing- and there was so much red #40 (or rojo #40) that it stained my tortilla hot pink. gross.
And Saturday the wedding was really, really nice. Danielle was beautiful, and everything went as planned. (i have more photos on my
flickr
page). Sunday was really funny because alot of my mom's cousins flew in from California and Chicago to reunite for the first time in a long time. And i picked a bouquet of wildflowers from my backyard and i think that was my favorite part of the whole trip. let's not talk about the rest of the day. oh and i left all these pictures really big because i think they look better that way.
the dollar dance:
the wildflowers:
some 16 year old kid in his underwear riding a toddlers bicycle off the jump: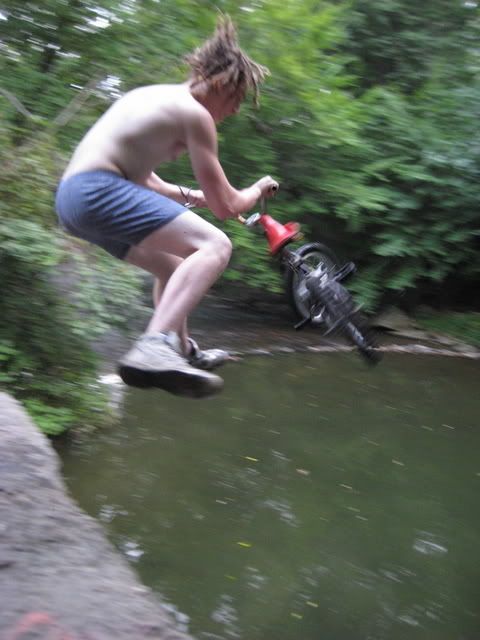 steven's wake:
me afraid to jump (for the record i eventually did, and the battery ran out before steven took a picture):
thank you and have a great week.