dang. suddenly i realize that september means summer is gone. but wait! i don't have a job!! i'm not in school!! my summer will live on!! i wish. i actually had a dream that "officials" announced the first ever month extender, meaning that the month of August would continue for another 30 days. (this is the same dream where i got a kitten then forgot to unload him from my car and left him there for 2 days. this tells me i shouldn't get a kitten) this weekend, Steven and I spent Friday and Saturday nights at the house of gallerist
Jonathan Ollman
and wife. It is a really nice brownstone in the queens village, four stories, and with walls that are dripping with folk and outsider artist paintings, prints, and drawings. Millions of dollars of artwork in there. Our good friend Chris is housesitting for em for the next week or so. both nights didn't stop till 4:30 and i've got pictures to prove it. Chris got creative and like clockwork concocted shots made from anything open on the counter, and him and Steven would try to one up each other with music facts, and finding the most perfect summer vibe song. I had some nice conversations about the kind of month August is, what it meant when you were a kid, and felt like you really had to live it up becuase you knew that once labor day was here, your freedom was over. we talked about books like "Bridge to Terebithia" (one of my all time favorites) and that made me think of the summer that me and Emily went to visit our cousins in Florida, and we built an enormous fort in their backyard/forest out of pine needes and branches. that was the trip where i tried to race Josh in the parking lot and i fell and scraped off the skin of my right hand and skinned my knees. i remember Heather telling me that it was ok to cry, that she would too if she got hurt, but i was trying to be really tough. the part that really made me want to cry was that they had baby bunnies and i couldn't hold them because i had neosporin all over my hand and the fur would stick to it. i was stuck petting the stupid turtle that never did anything cute.
anyhow, back to my weekend, me and tricia went to the beach on saturday, and it was sooooo perfect. the hottest most humidist day on the planet- really, going over the Ben Franklin bridge you couldn't even see the city, there was just a sheet of white- we were so prepared, had sammies and grapes and a six pack and magazines and even an umbrella. pretty awesome.
why does everyone have their eyes closed?
the most beautiful wax sculpture collaboration, a gift to jon for letting us have the key to his liquor cabinet.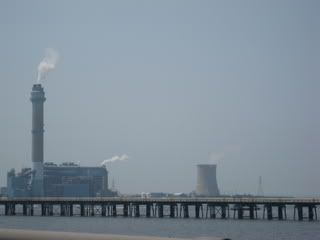 the awesome NUCLEAR POWER PLANT a few miles from the beach. hmmmm....smart? and theres even a small beach/dock area less than a hundred yards from the plant. COOL!!!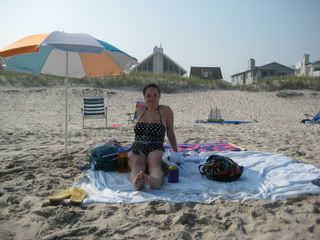 our perfect little area at the beach.